Welcome to the Pennsylvania Federation of Republican Women's Website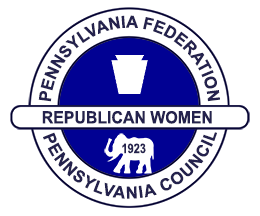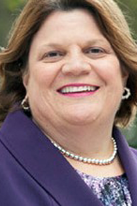 PFRW was organized in 1923 as the Pennsylvania Council of Republican Women and was one of the eleven state federations that came together to organize the National Federation of Republican Women in 1938. NFRW is the largest grassroots Republican women's organization in the country with tens of thousands of active members in local clubs across the nation.
Some of the objectives of PFRW are:
To educate women in Republican principles and politics.
To stimulate interest in issues at the local, state and national level.
To influence legislation wisely in welfare, education, efficiency in government and in all that pertains to the improvement of life in Pennsylvania.
To act as a clearing house for Republican women's activities and provide a center for political education, legislative information and practical service.
To increase the number of women registered in the Republican Party and unite their efforts along party lines.
To secure equal representation for women with men on state and county Republican committees.
To increase the number of Republican Women elected to public office.
As President of PFRW, I have asked our members to work with me to meet the objectives above while:
Increasing PFRW programs and events
Increasing membership in existing councils and increasing the number of councils
Increasing interaction between PFRW and NFRW
Together Pennsylvania's Republican women can make a difference in not only our great Commonwealth but for our country. Our children and grandchildren are counting on us to lead! Join us today! For more information, email us at pfrw@comcast.net.
Sincerely,
Bernadette "Bernie" Comfort
PFRW President
ORGANIZATION

The Federation is comprised of Local Councils from across the Commonwealth. We are governed by a Board of Directors consisting of our Executive Committee, Regional Directors and Standing and Special Committees. Our Board meets at least twice a year and the business of the organization culminates at our Biennial Meeting usually held in September or October.
2020-2021 PFRW Executive Board
Bernadette "Bernie" Comfort, President
Toni Gilhooley, First Vice President
Debra Taylor, Second Vice President
Carolyn Conner, Third Vice President
Sonia Stopperich Sulc, Fourth Vice President
Catherine Hennings, Recording Secretary
Cynthia Ayers, Corresponding Secretary
Melanie Whiteleather, Treasurer, Northampton County
Lisa Nancollas, Assistant Treasurer
Josephine Ferro, Immediate Past President, Monroe County

We would be happy to connect you to one of our Councils around the state for Membership Information.
When contacting us, in addition to your email address, please provide a telephone contact number and the county where you reside.
We would be pleased to hear from you! Please let us know what your needs and questions are, we will be more than happy to help.